Costa Rica, La Pura Vida
June 22- July 1 2016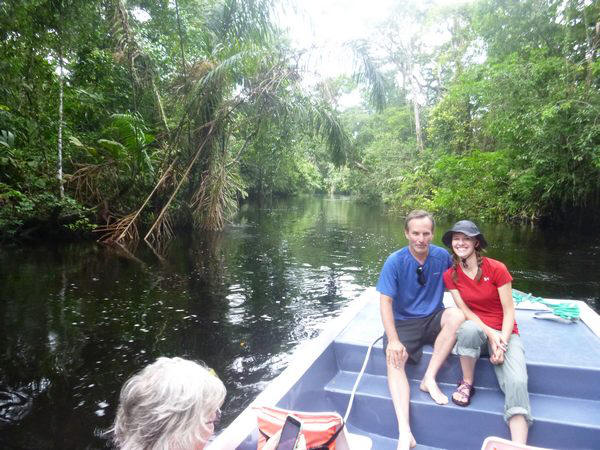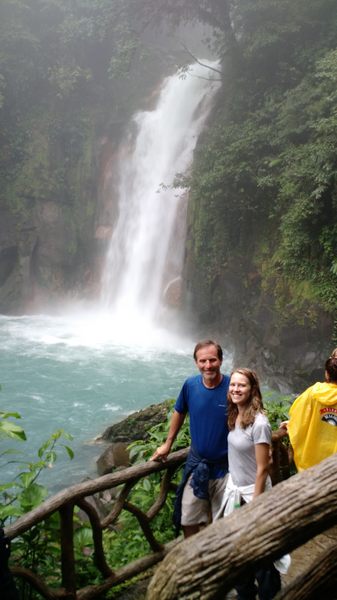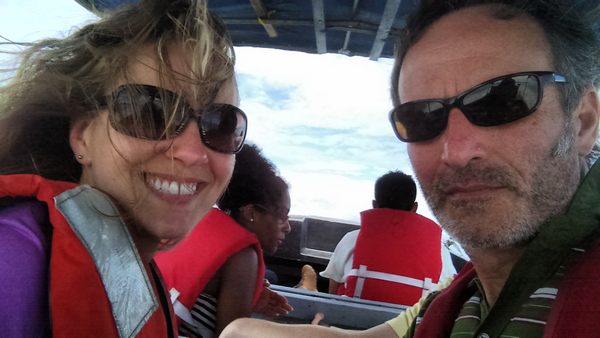 I had scarcely returned from Nepal and Tibet when Laurel surprised me with a birthday present beyond compare. We were heading into the jungles of Costa Rica and I would celebrate the half century mark on a side trip to Nicaragua. My summer just took a most excellent turn. But what the heck is Pura Vida? I kept hearing about this phenomena throughout our turn down there.
When we finally arrived in San Jose, the nation's capital, after a Unigtmare of epic proportion (our plane out of Knoxville developed a mechanical issue. It was the first flight of the morning, you think it would have not been put up wet but we are talking about the worst airline in existence) rain greeted us in Central America and was a portent of days to come.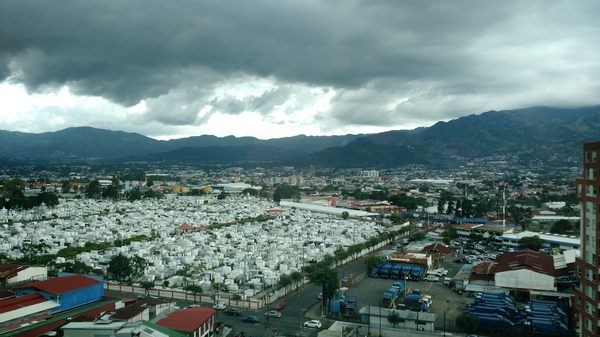 San Jose, Costa's capital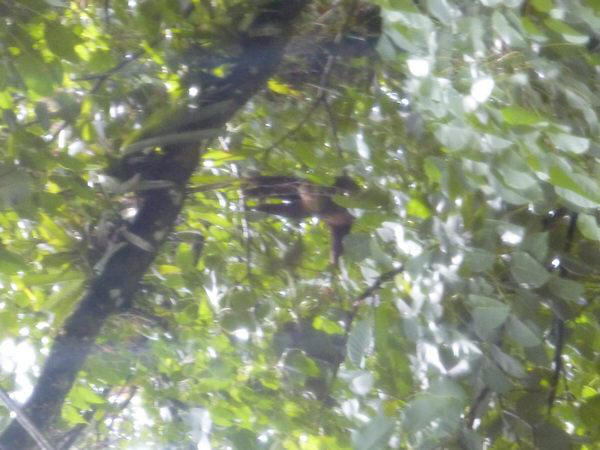 We settled in for a brief rest and boarded a tour bus for the lower jungles of Tortuguero National Park. As we dropped down five hours from the center of Costa Rica to the Caribbean side we soon had our first tree sloth sighting.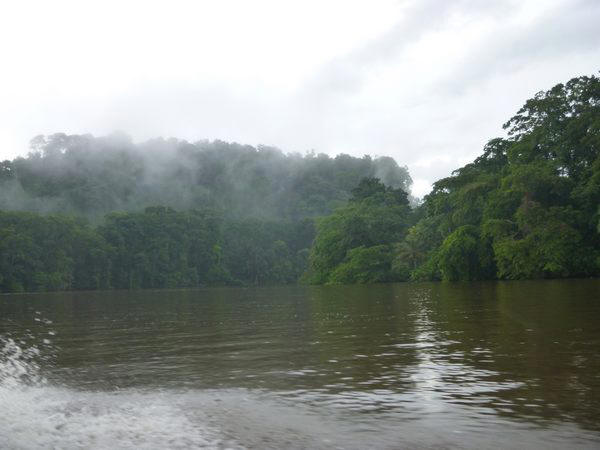 It was one of many to come. We soon boarded a boat that would take us down the river. I felt like Martin Sheen chasing Colonel Kurtz into the heart of darkness. As we moved further down the Penitents river in intermittent rain, I imagined what it would be like to live along this canal rife with monkeys and this fellow.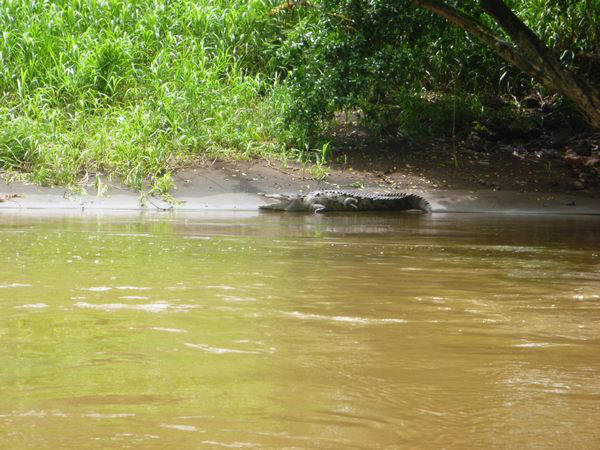 A ten foot crocodile sunned himself as there was so little of it.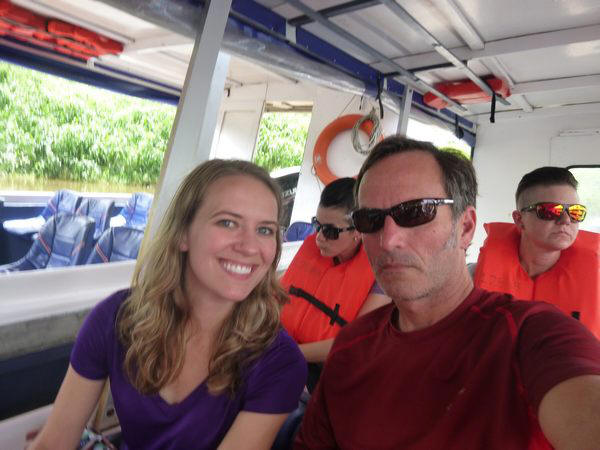 As did we.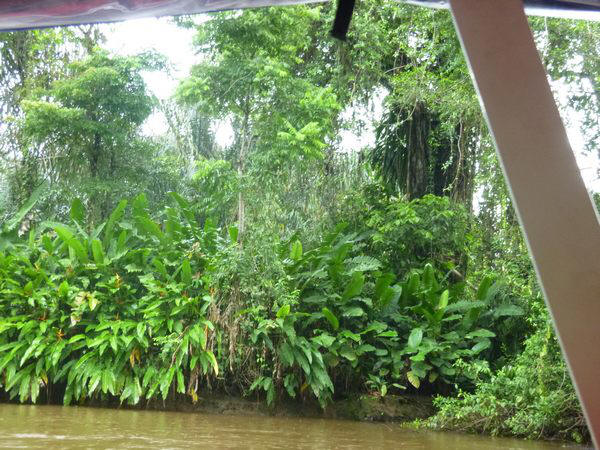 Typical jungle scenery flanked our ride. Then we encountered our first monkeys.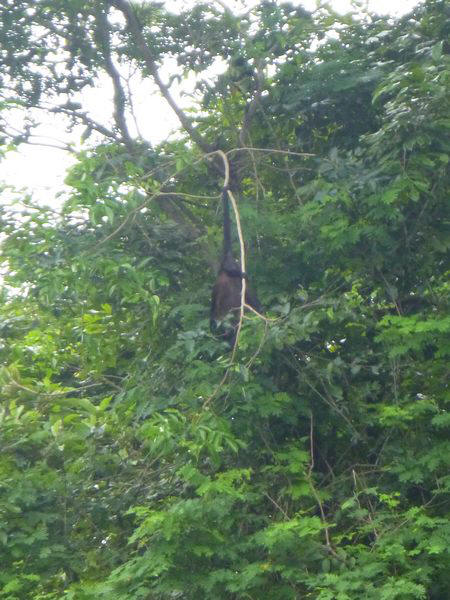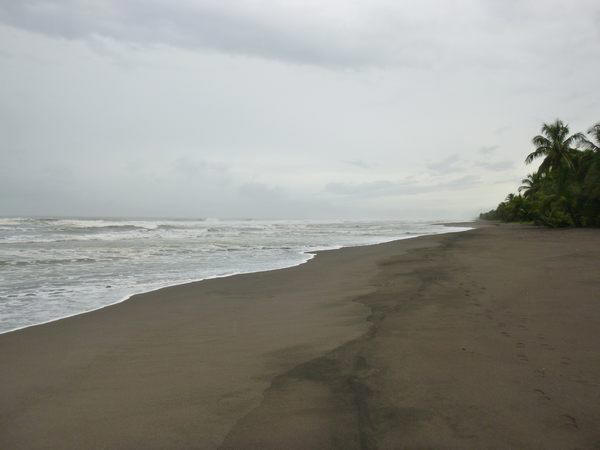 We would see them daily. Our journey into the heart of darkness was dark, but only from a weather standpoint. We were on the Caribbean and the black sand beach was therapeutic for toes still numb from Cho Oyu. Ironically, the water is unswimmable due to rip tides. In one year alone, 28 people perished on Costa Rican shores as a result of the dangerous waters. Regardless I had to take a slight dip. I was in the water no longer than a few seconds when unbelievable lightning filled the skies and ended this foolishness.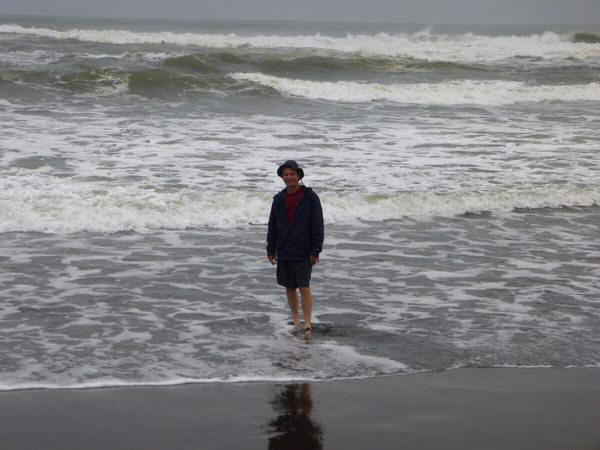 Our fist day had several events scheduled including an early morning jungle ride along a canal and an afternoon kayaking adventure. But a monsoon arrived to thwart those plans. It ended up being 2 pm before our next jaunt into the jungle again. It rained like the dickens in between activities. Our accommodations were superb although minus air conditioning. It was a sweltering three days in Tortuguero but absolutely phenomenal in the flora and fauna encountered. Lizards, iguana, sloths, monkeys, toucans, parrots and all manner of jungle life and fruity drinks are to be found in this paradise of life.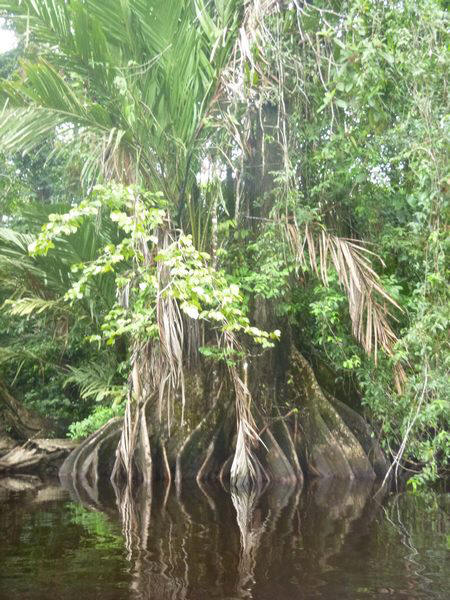 There is a lizard below. Can you spot him?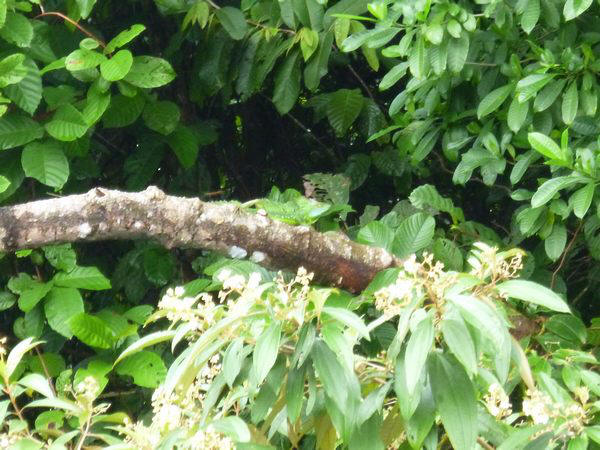 Let me blow it up for you. There were so many similar instances. These guys are called Jesus lizards for their ability to run across the water. And we witnessed that once or twice.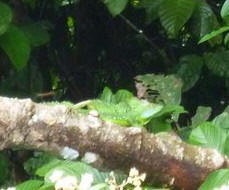 Departure meant another boat ride through the rain swollen canals to a bus which carried us to Arenal National park, some six hours northwest. Again, heavy rains dogged our journey as we separated from the main body of our tour group in the direction of a different kind of forest in the shadow of Arenal volcano. I should mention that this tour was booked via groupon with Ecoterra and their service is top rate. Don't ask me what it costs because I have no idea. Remember, it is a birthday present. Accommodations were top notch in resorts of unrivaled service. Not that we spent much time lounging.
Our mornings began with the first tours that happened to be a zip line experience. I've never zip lined and will have to say it was a thrill. We did 11 lines, with one being over a mile in length. You can gain some speed in a one mile zip line. Unfortunately, I did not carry the go pro upon the advice of staff.
The afternoon excursion was a two mile hike through the base of Arenal Volcano. We found a window between storms that allowed us to head into magma soaked soil. My first snake was found inconspicuously. This is called an eyelash viper and it is super poisonous.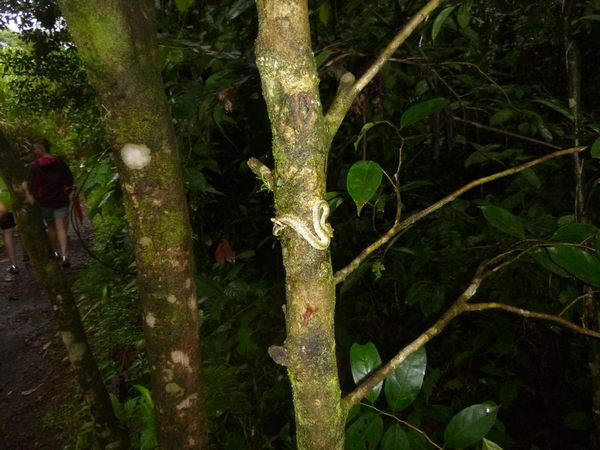 Other animalia that crossed our path was this camouflaged bird that looked like a stick. Then there were more monkeys, toucans and lizards.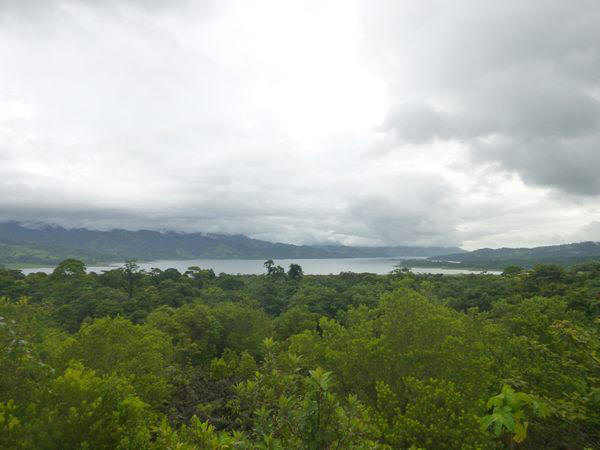 We ended this evening with a trip to a hot springs resort that was just amazing. Hot water flowed from the volcanic underground and was tapped to create unlimited pools for our bathing pleasure. What a way to end a great day in Arenal.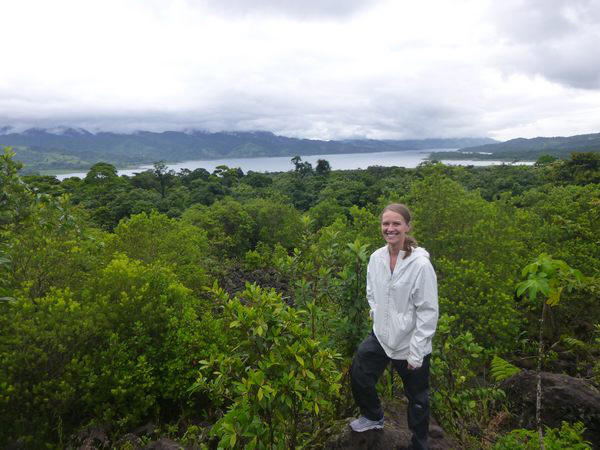 June 28 was a super early call as we boarded a bus at 6 am for a four hour ride into Nicaragua. The border opened at 8 am and we needed to be first in that line of bureaucracy. Costa Rica stands above many countries in their literacy rate which far exceeds ours here in the US. Another boggling thought is they have no standing military. As a result of not spending so much on a military, the per capita incomes are fairly stable and consistent. My personal observations having gone from there to Nicaragua with dirt poor border guards shouldering pump shotguns that predate the Vietnam era is perhaps the Costa Rican's are on to something.
Laurel and I scaled the heights of San Carlos, Nicaragua. Soon we boarded another boat to cross part of the largest freshwater lake in central America, Lake Nicaragua.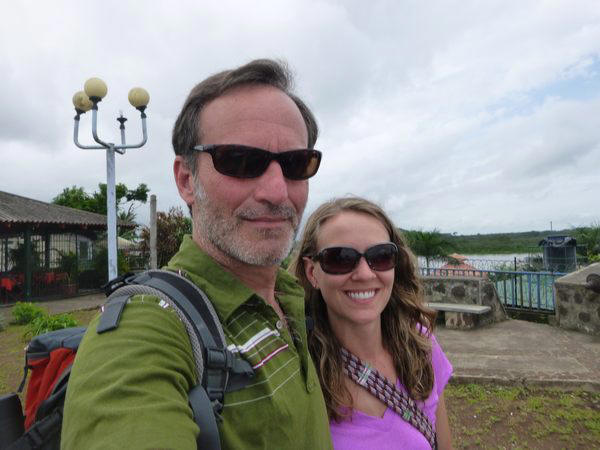 More rain ensued in our 45 minute crossing to this island that I described as an "ornithological cornucopia". 55 species of bird were observed.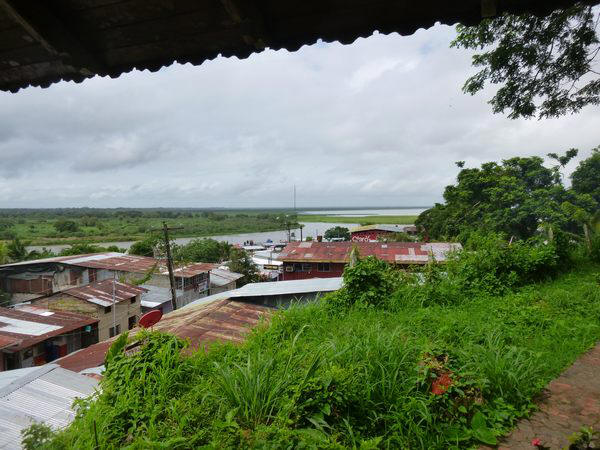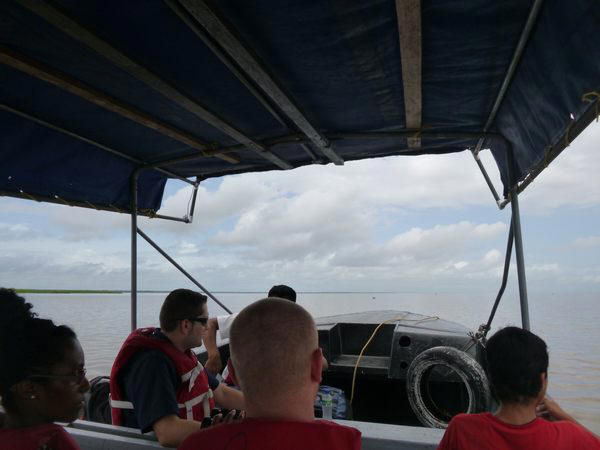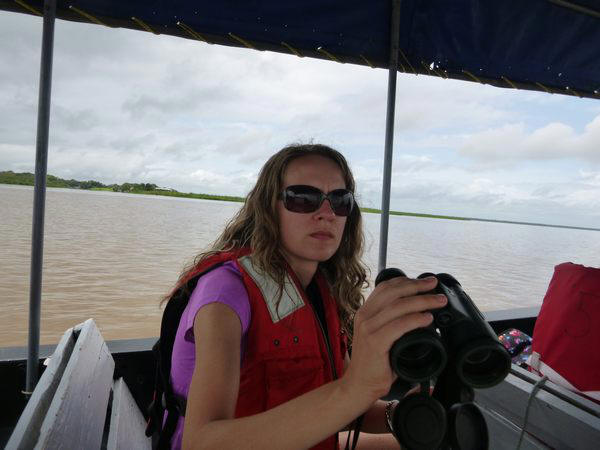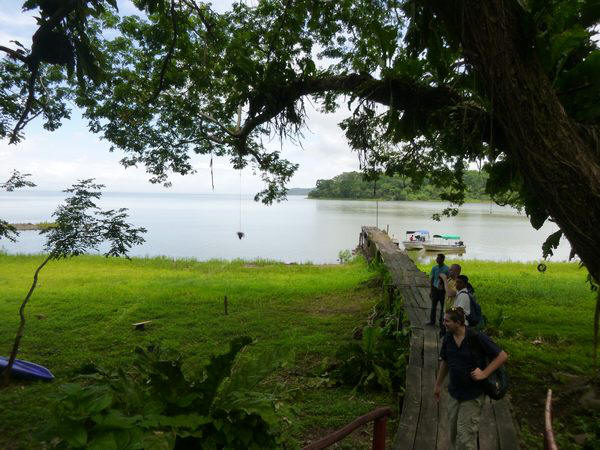 Offloading for lunch on an island in the middle of lake Nicaragua, our guide and other passengers dined over a lake that has bull sharks, coral snakes and all manner of wildlife to include cayman and crocodiles.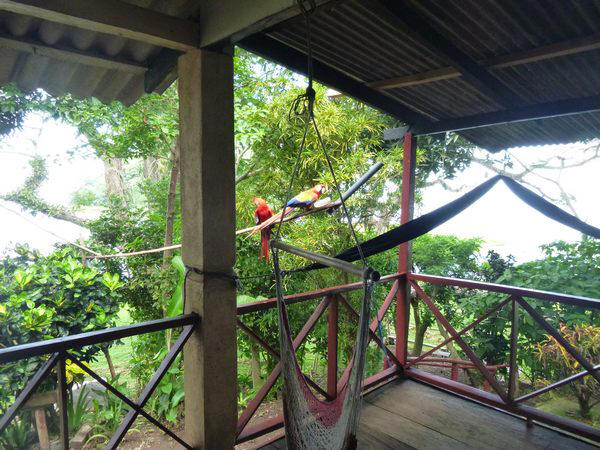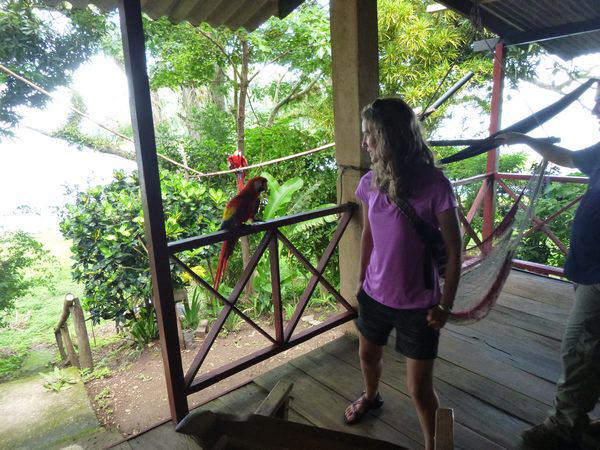 Laurel gets spooked by the finicky parrots. It was a Nicaraguan standoff.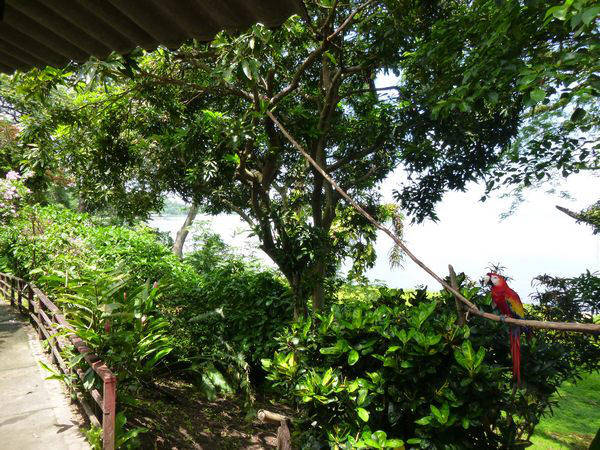 Still, it remained a tropical paradise.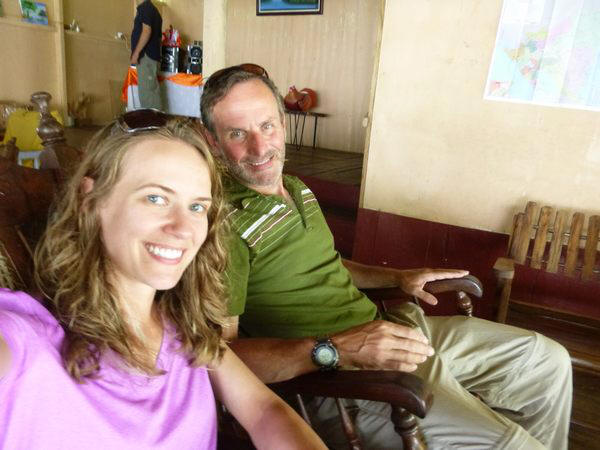 We were able to relax for a few minutes before reboarding for another island in the ever growing heat of the lunchtime hour. It seemed like a full day already but we weren't halfway there.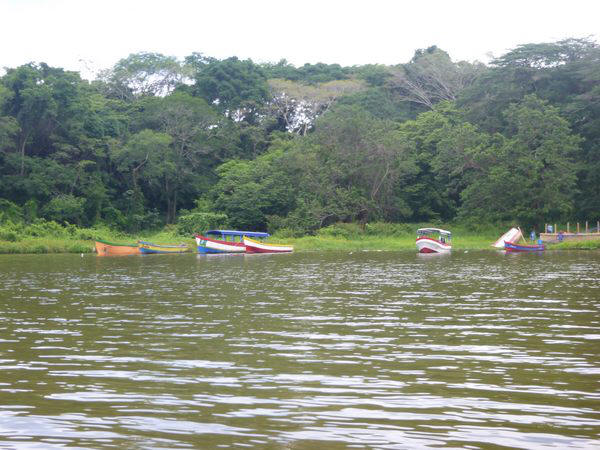 Our next island was home to a church of particular renown in Nicaraguan terms, anyway. It meant very little to us but the mud floor which also served as a school reminds of the disparity between this country and their neighbor.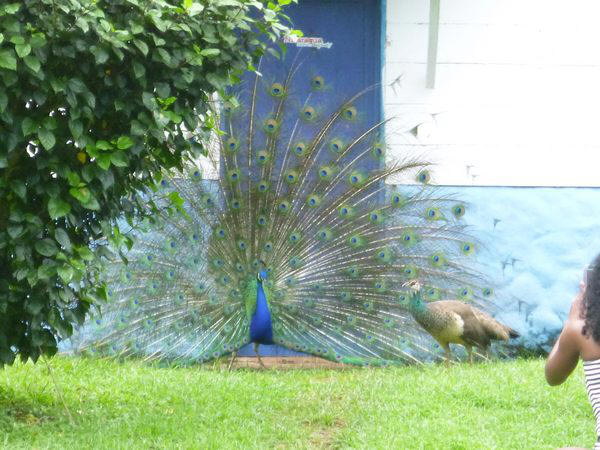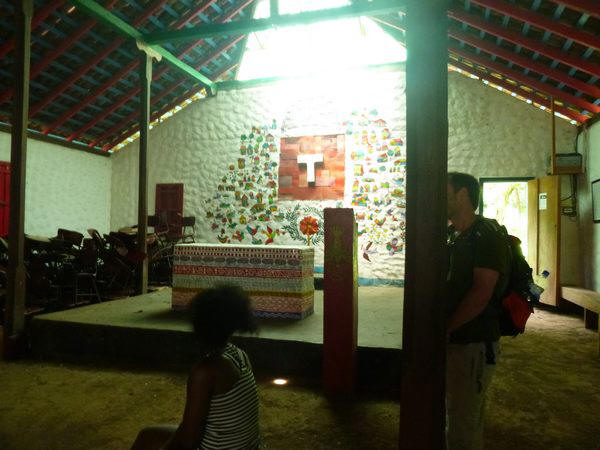 It was my 50th birthday.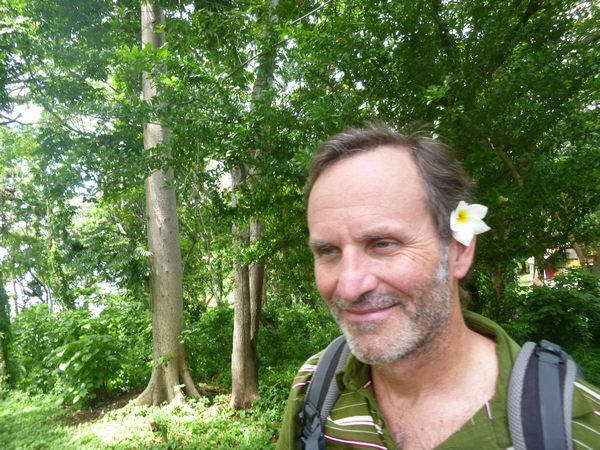 After a one hour return ride, San Carlos came back into view. Our time in Nicaragua was drawing to a close, there were still borders and bureaucracy to negotiate.
I had been teasing Laurel all day about being used to having a birthday cake. (which isn't true). All day I was saying that this would have been the perfect birthday had there only been a cake. She didn't seem to take her usual posture with my needling on the heels of this extravagant excursion. When we returned to La Fortuna, our home in Costa Rica later that evening, I understood why.