The Throne Room of the Mountain Gods Broad Peak, Pakistan June-Aug 2013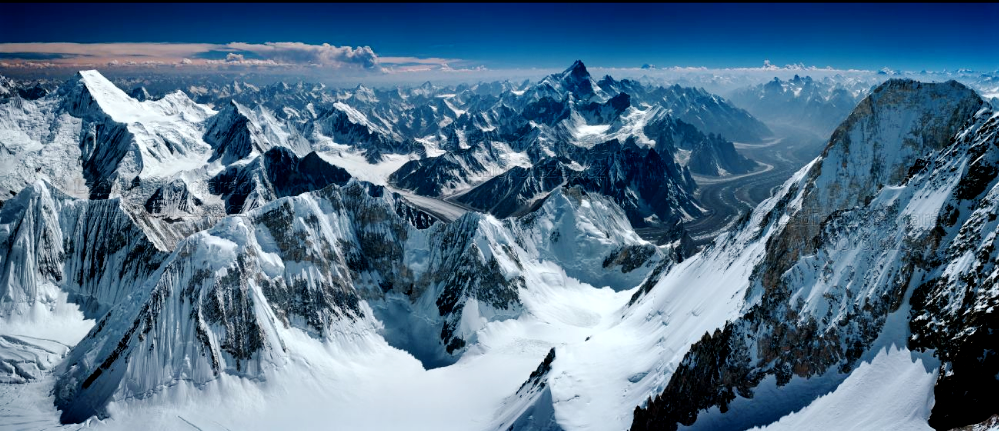 Follow our Expedition at this link: Field Touring Alpine Blog You can also receive update dispatches if I am able to do so at
Broad Peak Expedition - GotSmokies
I'm not a pantheist but that's what Galen Rowell remarked upon his first foray into Concordia. Indeed he must have been completely overwhelmed by this concentration of mountains, the highest on earth in such close proximity. Just getting to this place takes 12 days of trekking in one of the most remote sections of our planet. It looks to be an exhilirating journey that I have likened to taking a 60 mile A.T trek then climbing the 12th highest peak on Earth after arrival.
Here is a short video explaining our destination:
The mountains of gear and logistical preparations are concluding and soon all that will be left is to drive, yes drive, to New York City to catch an 11 hour flight on Kuwait Air to Kuwait City. From there I will fly into Islamabad where we will spend a few days organizing permits etc and then it is off to Skardu, hopefully by plane. If not, a 30 hour jeep ride ensues and I wish to avoid that at all costs. We will have other jeep rides and I have no concerns about missing a leg of that action. Here is a detailed itinerary.
Detailed Itinerary - Concordia K2/Broad Peak Trek
Day 1, Rawalpindi/Islamabad: Hotel, trek briefing. We will have ample time for sightseeing and shopping in colorful old bazaars of Rawalpindi and new markets of Islamabad. We may also drive to the huge modern Faisal Mosque in Islamabad.
Day 2, Skardu ( 2,500 m 8,200 ft): Hotel, flight. We will be on the most fantastic commercial flight in the world taking us from Islamabad to Skardu. If the weather is bad, we will drive in two days on the famous KKH to Skardu.
Day 3, Askolie (3,300 m 10,800 ft): Camp, jeep drive. It takes about six hours to drive from Skardu to Askolie or near Askolie. The drive through the Braldu Gorge is guaranteed to knock your socks off!
Day 4, Korofong (3,500 m 11,480 ft): Camp, trek begins. The walk from Askolie to Korofong is on an easy gentle plain and can be done in 6 to 8 hours. We cross the snout of the Biafo Glacier on the way. The first sight of the pinnacles of the Paiyu Group is stunning.
Day 5, Bardumal (3,550 m 12,000 ft): Camp, trek, river crossing. We follow the Braldu and the Biaho rivers to a river's edge campsite. On the way we have to cross the Domurda River coming out of Choktoi and Panmah Glaciers. This crossing is done on a 'garari' or on a bridge upstream. Depending upon the time it takes for the crossing, the walk can take 8 hours or more.
Day 6, Paiyu (3,666 m 12,024 ft): Camp, trek. This takes about 6 hours of walking and will give us our first sight of the mighty Baltoro Glacier and the Trango and Cathedral Groups. Paiyu is the last campsite before the Baltoro. Efforts are underway to clear out the pollution and there has also been a recent plantation of many trees in the area. The walk follows the Biaho River all the way to Paiyu. The campsite is perched high above the valley with excellent views.
Day 7, Paiyu (3,666 m 12,024 ft): Camp, rest day. Wash up, relax, read, climb on a steep ridge behind the camp, sing and dance with the porters! Depending upon the size of the party, goats or a goat will be sacrificed and meat will be distributed to the porters as a form of thanksgiving and to bring us good luck on our next day's walk on the Baltoro.
Day 8, Khoburse (3,800 m 12,460 ft): Camp, trek on Baltoro Glacier. Six to eight hours of walking. A tough day as we climb on the rocky moraines of the Baltoro, but the sight of Baltoro pinnacles and Paiyu Peak is astounding! An earlier alternative campsite is Liligo, but there is no water there. We will cross some gushing streams on the way.
Day 9, Urdukas (3,950 m 12,960): Camp, Baltoro Glacier. A short 4 hour plus walk on the rocky moraines and ablation valley of the Baltoro. We will cross couple of icy side glaciers on the way and may have our first sight of Broad Peak and the Gasherbrums. The historical campsite is located on a grassy slope high above the Baltoro and commands one of the most intense mountain views in this world. The campsite was prepared by the Duke of Abruzzi in the beginning of this century.
Day 10, Goro (4,300 m 14,100 ft): Camp, Baltoro Glacier. This is a tough day's walk on the undulating Baltoro. However, the footing becomes easy as the rocks become smaller and smaller as we move up the Baltoro. It takes about 8 hours to get to Goro. We walk right smack up the center moraine of the Baltoro. As Masherbrum emerges on the right, it takes our breath away and so does Gasherbrum 4 right in front of us. Goro is a cold campsite! It has a great view of the Muztagh Tower.
Day 11, Concordia (4,550 m 14,925 ft): Camp, Baltoro Glacier. An easy 4 hour plus walk. As we enter the Throne Room of the Mountain Gods and see K2 emerging on our left, we feel that we have arrived at a very special place on the planet. For many, it is lifelong goal and a pilgrimage to come here. A place of superlatives and without any parallels!
Day 12, Concordia (4,550 m 14,925): Camp, rest, explore base camps. You can just sit and watch K2 all day long and sip tea; which many have done and have still not been able to fully get K2 in their system! Or you can go on a long whole day tiring trip to K2 Base Camp (4,800 m.); or go the other way towards the Gasherbrum peaks
Day 14-40: Climb Broad Peak 26,400 feet
Day 41-50: Return via Gongodoro La Pass to Rawalpindi.