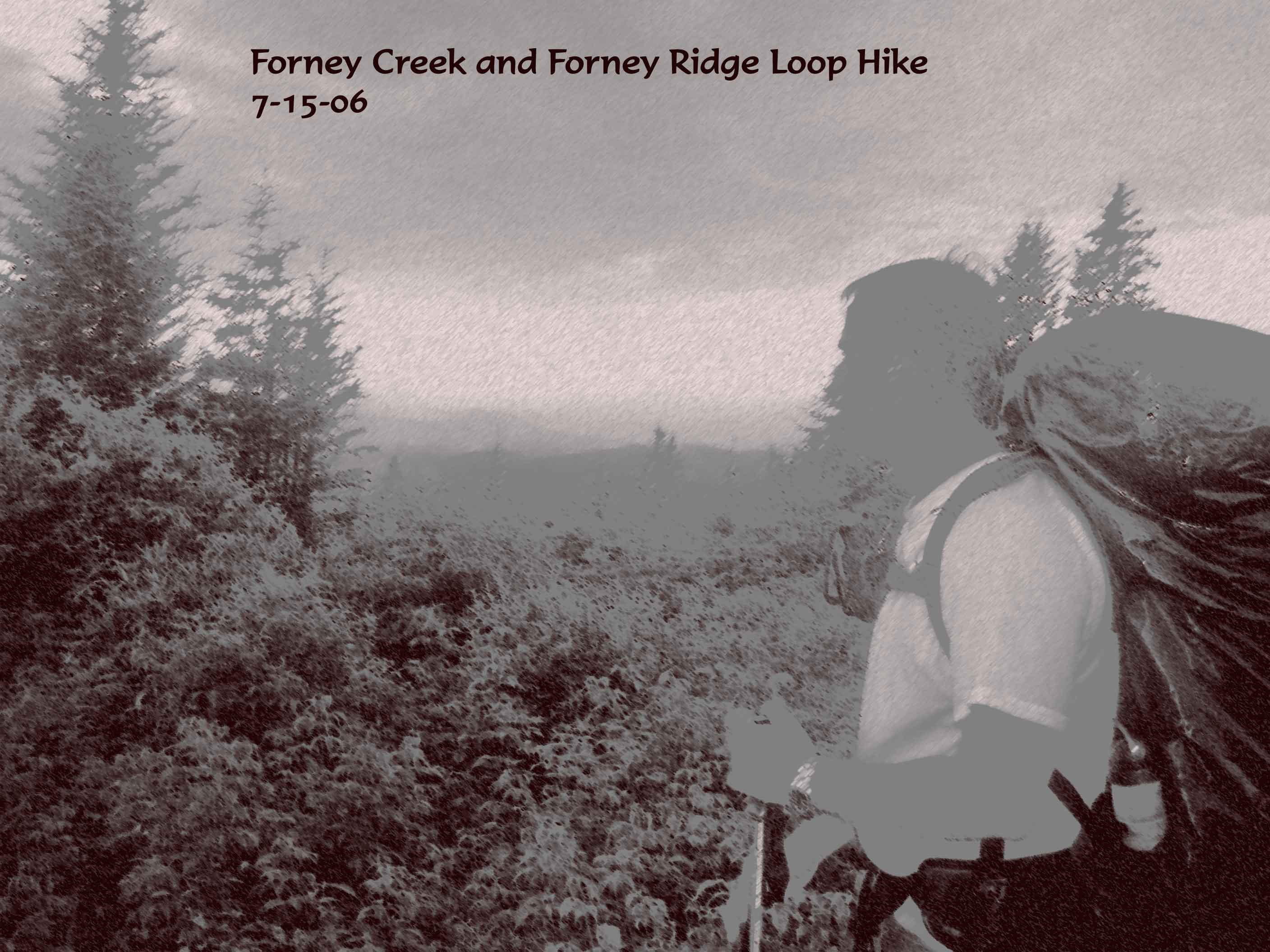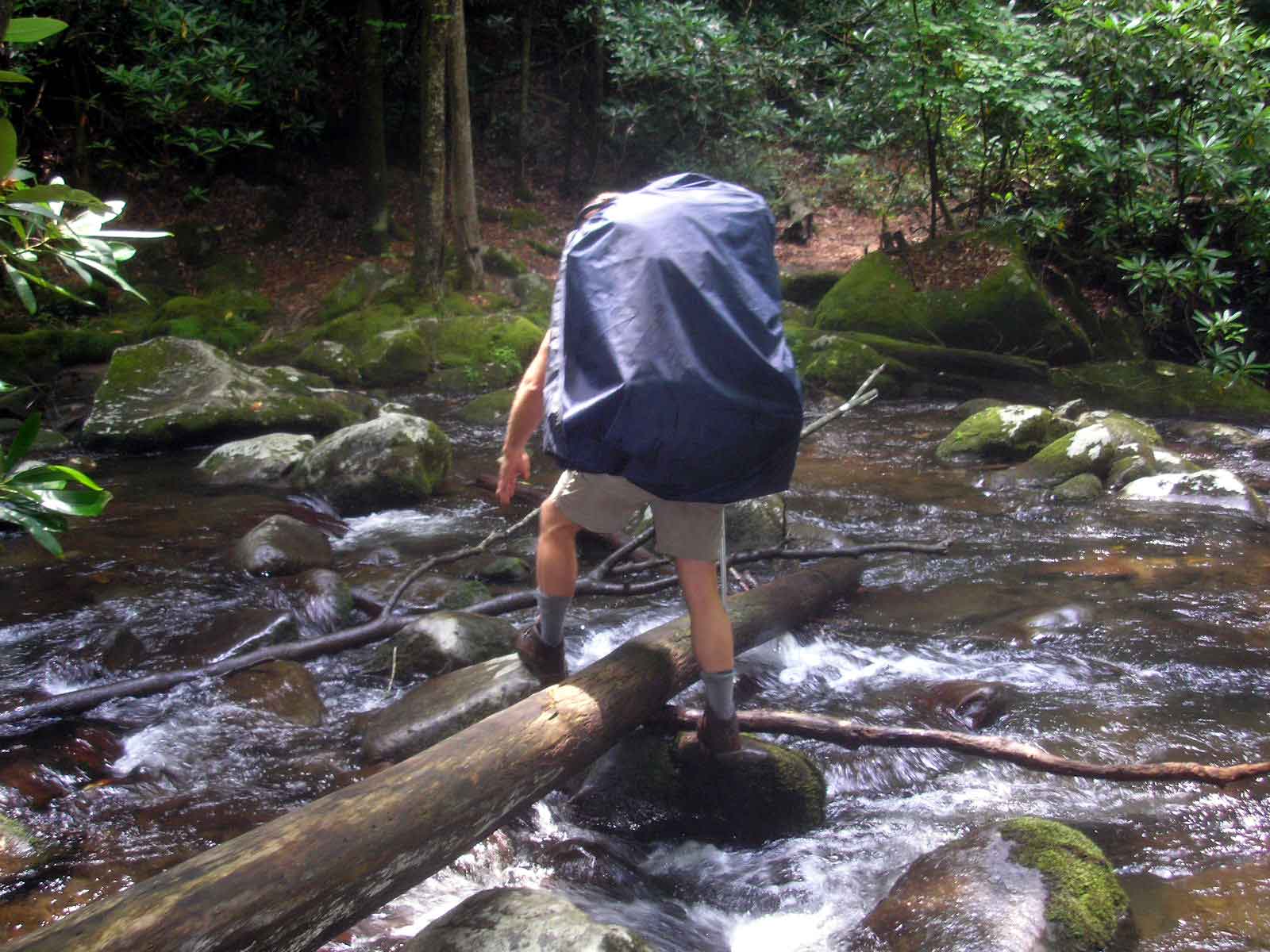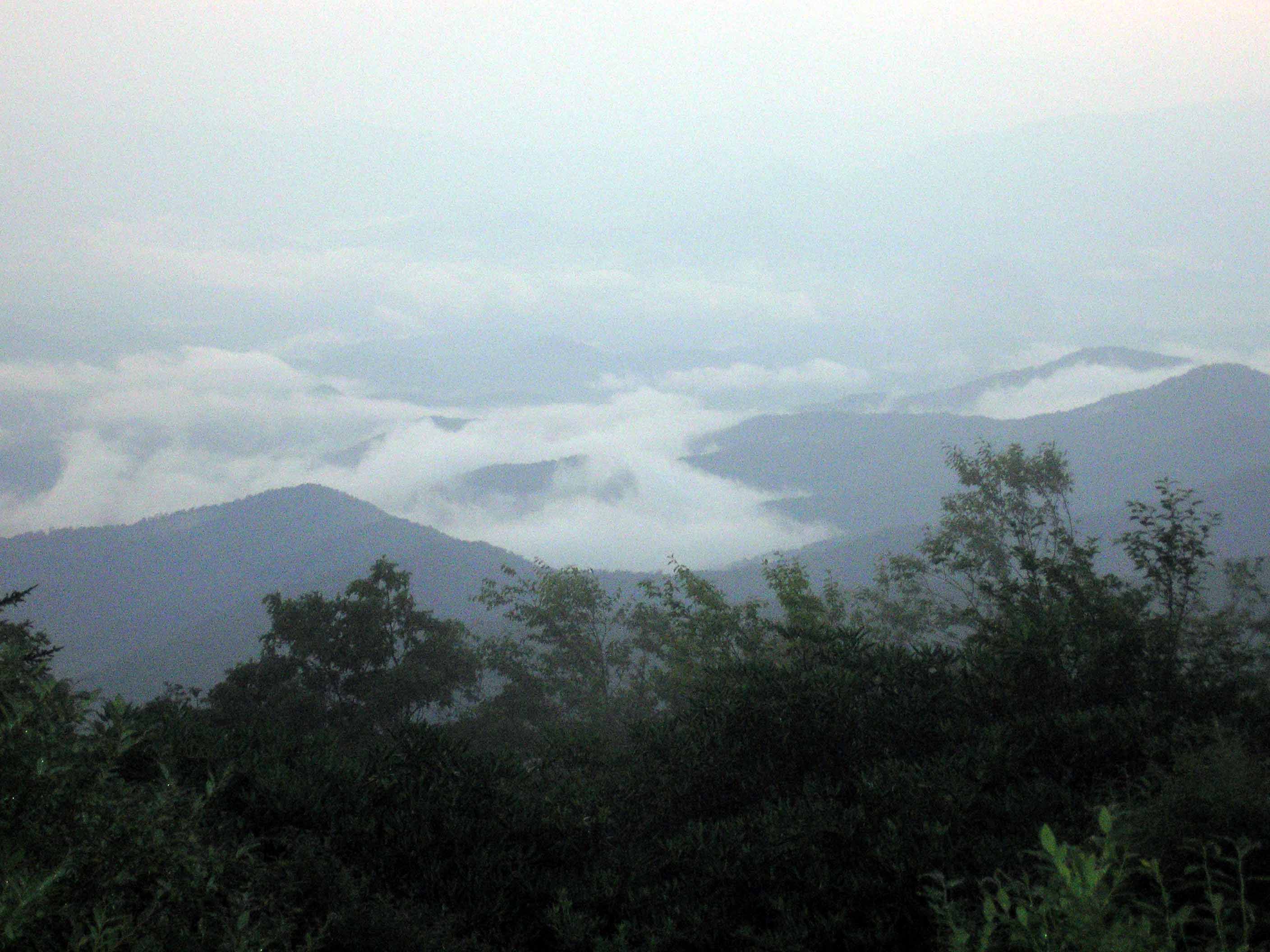 Sometimes all you can say about a hike is .,.We did it? I never realized why I had never completed this loop in my hiking career. Below you will discover why.
Day 1. Martin and I depart Clingmans dome. Fifteen minutes later the rain begins. The brown guide book clearly states, If it's raining, do another hike. Lacking the possession of good judgment to begin with, we continue our descent in the monsoonal downpour that has turned the trail into a river that is threatening to sweep us up into it
.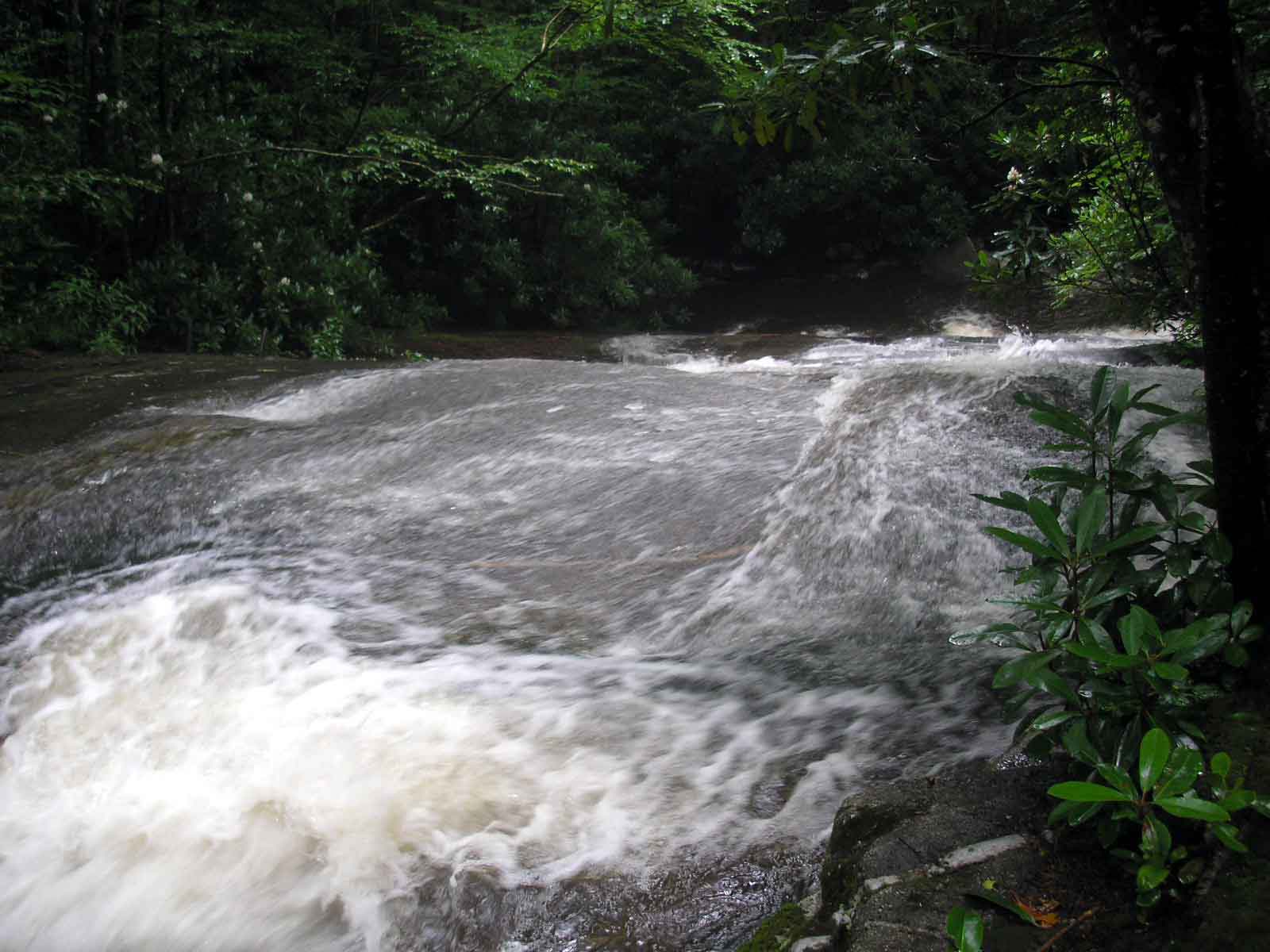 (check out this crossing video)
This is one of the 20 or so crossings we will make on Saturday.
By now we have abandoned any hope of keeping dry. Our packs are covered but everything else is soaked so we cross the creeks and their tributaries without hesitation. Poles are a great thing, sometimes. After the third crossing, we forgo pouring water from our boots. Forney Creek Trail
Five hours later, we arrive at campsite #69 and promptly, the rain ceases. We make camp, cook supper and visit with George D. The night is beautiful and star filled.
Day 2. Slow morning, lots of coffee. Plan to continue descent to Springhouse Branch. Swollen Rivers are still an issue but since none of our footwear is dry anyway we trudge onward. Long Hail the StormCrow! The day heats up and we lunch at campsite #71 not far from Fontana Lake. It gets so hot that a nice swim is in order.
Since we intended to stay here last night, our days hike will be around 14 miles. It is intended to follow Springhouse Branch to Forney Creek. As we begin the ascent, the sun heats the trail and we both look for snakes. It doesn't take long for me to step on this fellow, enjoying the sun.

(sorry little guy)
Since the clouds were moving in, we pick up the pace. A discussion is made regarding water and the lack of it up the trail. We decide not to carry extra pounds of it and that proves to be the right decision as the rain begins shortly thereafter. It rained sideways with lightning and thunder. Martin suggested a bivouac but I prevailed upon him to press on. Adding insult to injury is the fact that this overgrown bushwhacking adventure (I say bushwhack because it appeared as if no one had hiked this mother in years and weeds were over our heads at times. A machete would have been useful.) was now uphill in a creek, as opposed to the downhill creek float of the day before.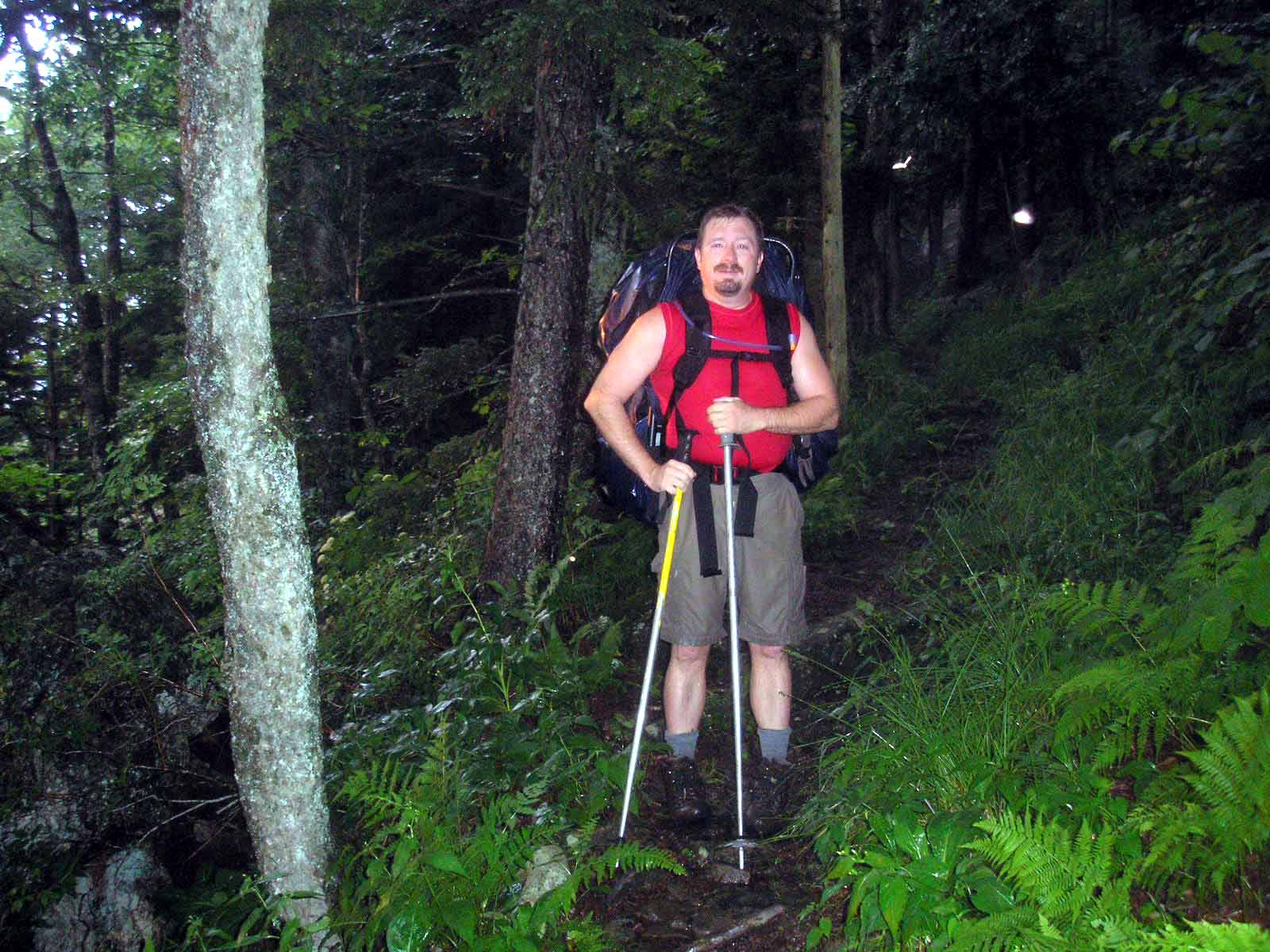 (martin pauses during a break in the storm to flex for the camera)
Martin is cursing me heavily now and I probably deserved some of it. We are five miles up to the split which is mismarked by a mile and a half when the rain really lets loose. We laugh now and fill our bottles with water, which we haven't had for several hours. We have gained a couple thousand feet in elevation and lost quite a bit in sweat. H20 was no problem at this point, just look up and fill your mouth with rainwater, it didn't take long.
In total, we hiked for ten hours on Sunday and completed 14 miles. Sound slow? Well, you try carrying a 30lb pack that has become a 40lb pack with all the rainwater uphill for 11 of the 14 miles. There was one payoff, despite all the blisters and sore backs.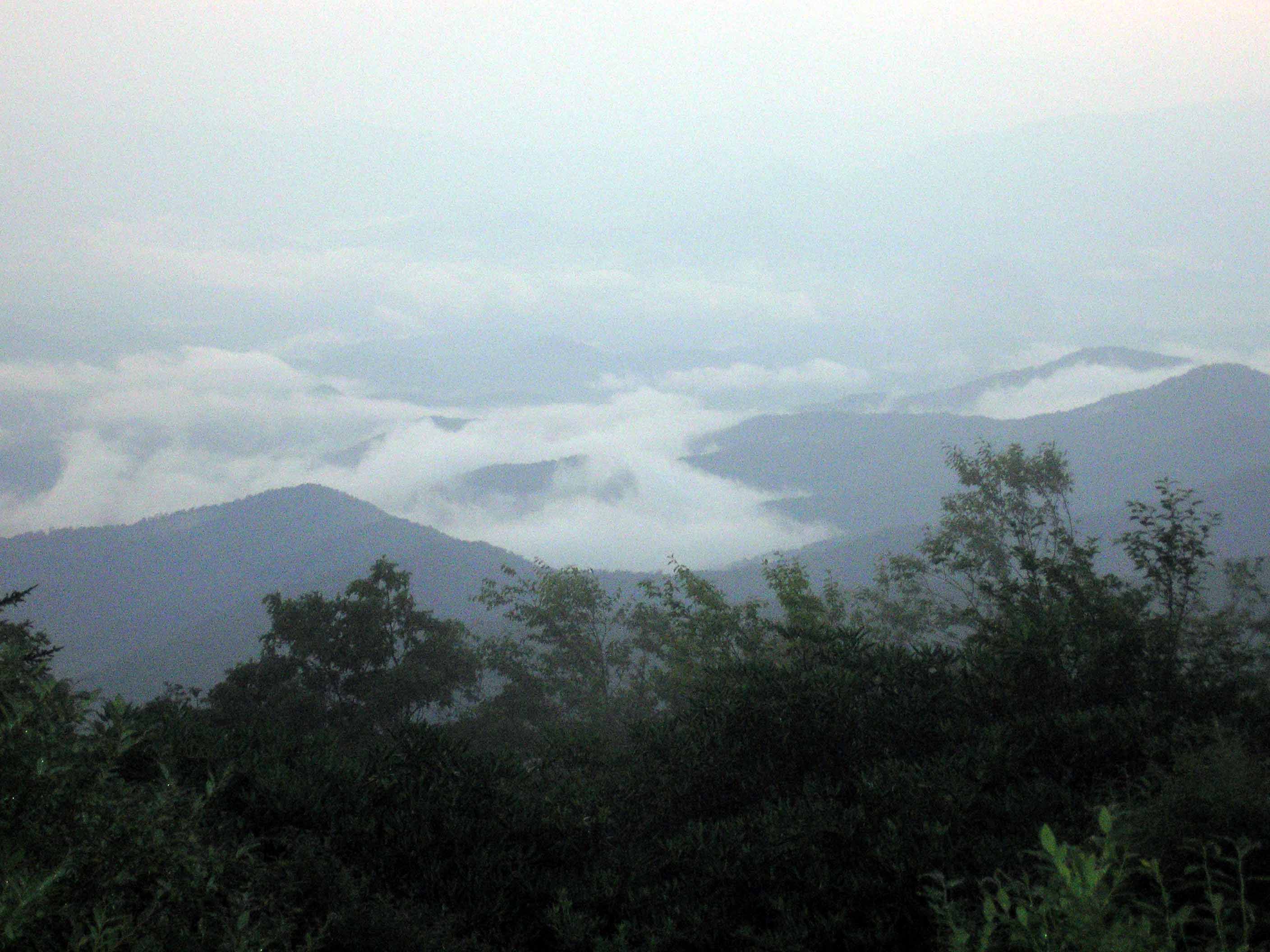 (Andrews Bald during a break in the storm)
Andrews Bald is a little know pot of gold at the end of this rainbow. We caught a spectacular sunset from there. We had two miles to Clingman's Dome and the car. By now the wetness had caused severe chafing in several areas that I will not mention and my blisters had popped more than once. We trudged through the river formerly known as trail the last few miles to the top. A real Smokies Epic not soon to be repeated by this cowboy. Hat's off to the Hunley for his ability to get back out after a hiatus and whip its tail.