Ca$h's Camper Caliphate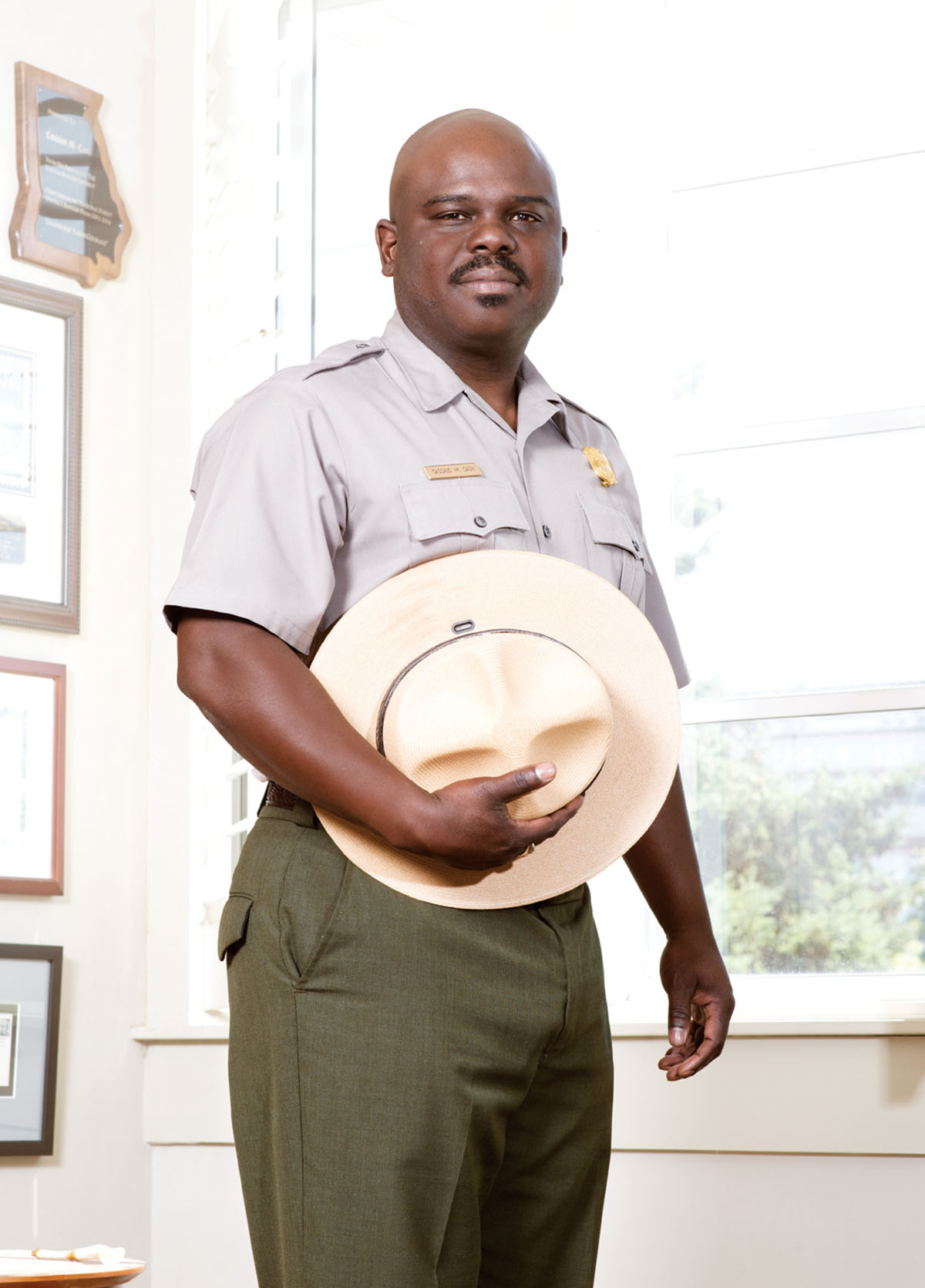 When Dale Ditmanson "retired" from his position as Superintendent of the Great Smoky Mountains National Park, there was a line of interim NPS folks who filled the round hat until Ca$$iu$ Ca$h was appointed last year as permanent Smokies chief ranger. There was no one left who had much of a hand in the backcountry Feeasco; Melissa Cobern, who was brought in to steer the NPS into fee waters was promoted to Superintendent of George Washington's birthplace. The irony here is rife. A person who took this section of public lands further from public hands was given the keys to one of the most important memorials in our Nation's history. I'm sure old George is turning in his grave.
However, this is not unusual. When employees at Grand Canyon and Canaveral NPS units complained of sexual harassment to their Superintendents, they were told to hush. Invoking federal whistle blower protections took the issue outside of the Superintendent's hands and to keep things quiet, NPS chief, Jon Jarvis promoted the managers to different units. That was his idea of discipline. When quizzed by a congressional oversight committee two weeks ago, Jarvis said, "You know how difficult it is to fire a federal employee". Apparently he really does, because two Congressman have asked for his resignation and Jarvis, who was head of the NPS ethics department simply shrugged. When pressed for his rationale to publish a book and skirt the ethics department the #1 ranger ironically oversaw, he said, "I'm a risk taker". This is your NPS at work.
Public perceptions of the NPS are consistently high so scandals do little to tarnish the "green and grey". There is a collective belief that the NPS not only oversees but apparently created all the splendor and glory embodied in our National Park system. To hear the average person discuss the individual units you would think they were speaking of God when they remark about the beauty of each individual entity. Indeed, our public lands are awe inspiring. But the attribution to the present day NPS requires some education outside of park press releases and open handed begging for increased funding.
Take our beloved half million acres, for instance. Anyone with a modicum of historical knowledge knows that the Great Smoky Mtns National Park is a Knoxville project. Not that North Carolina wasn't involved but let's focus on Knoxville's role for a second. On April 1, 1916 Col. David Chapman, of Chapman highway fame, asked fellow Rotarians sitting around a lunch table, "Why can't we have a National Park in the Smokies?"
At times he fought literally with his bare knuckles to snatch up the detritus of timbering from such as the Little River Lumber company. His foresight, along with that of another Knoxville photographer, James Thompson whose photos of Mt. Leconte are purported to have "sealed the deal" were able to get federal eyes looking our way. Similar efforts took place with our Carolina kinfolk and notable names are Kephart and Masa. I can tell you that politics is what moves projects, however, and Chapman was the consummate lobbyist. In my eyes he deserves the lion's share of credit. But as the world turns on a dime, so it took a 5 million dollar benevolence from the Rockefellers to close. Now the feds were on board.
When Franklin Roosevelt arrived to dedicate the park he stood atop the famous stone bulwarks at Newfound Gap. From that perch he peered over Smokemont and into the Catalooche valley. On a clear day, the Cherokee reservation was barely visible through the not so second growth canopy. FDR's words haunt our ancestral lands to this very day. He opined, "If the spirit of God is not in us, and if we will not prepare to give all that we have and all that we are to preserve Christian civilization in our land, we shall go to destruction." He went on to say, "The pioneers survived by fighting their own fight and by, standing together as one man in the face of danger. If we, their descendants, are to meet the dangers that threaten us, we too must be ready to fight our own fight and stand together as one man. In hours of peril the frontiersmen, whatever their personal likes or dislikes, whatever their personal differences of opinion, gathered together in absolute unity for defense.
It is as if FDR foresaw the problems of our generation. We are now required to view fireflies, backcountry camp and frontcountry camp on government directed days and tours.
He concluded by prognosticating, "But there is a second danger—a danger from without. I hope, for example, that one hundred years from now the Great Smoky National Park will still belong in practice, as well as in theory, to the people of a free nation. I hope it will not belong to them in theory alone and that in practice the ownership of this Park will not be in the hands of some strange kind of Government puppet."
Superintendent Ca$h has inherited a caliphate from his NPS overlords. That caliphate is a humanless state. Since invoking the backcountry fee, the NPS has decreased backcountry camping. Now with the settlement of our legal fight, the NPS is proposing to gouge the public further on frontcountry camping with a proposed increase of 35%.
I could speak all day of budgetary increases given without strings by the Obama administration without even touching on the endowment conveyed by the Friends of the Smokies and Great Smoky Mtns Association, not to mention the NPCA, Pew Research and Aslan Foundations just to name a few. The millions that flow once amounted to five times the Smokies annual budget of 20 million dollars at the height of stimulus time. The NPS response was typical. "We need more." And the administration obliged bumping up their gift another 20 million. In a time when the average American hasn't seen a raise in years, we have given the NPS four and five times their annual budget in tax dollars alone. The GSMA and Friends have annual budgets in the millions. What has the NPS done with the money, given themselves raises and pumped millions into a bridge on the parkway that connects to nothing.
Meanwhile, a record number of backcountry bridges like Rabbit Creek will not be replaced. Scott Mountain trail remains closed as well as relocating Ace Gap trails away from private homes and one prominent private homeowner. My query to the backcountry office has gone unanswered. Apparently, all correspondence from Quillenger has to be cleared through the regional office.
So back to the Caliphate, a camperless backcountry beholden to FDR's strange overlord on government directed tours and days. Ca$h inherited his boondogle but has shown great aptitude in carrying the fee ball forward. Despite invoking this impending frontcountry camping increase, he has been making the rounds to cry for an entrance fee. We all saw this coming. I mailed him a copy of the TN State House and Blount County Commission resolutions condemning future fees for the Smokies. Jarvis and Ditmanson apparently omitted that part of his orientation.
FDR cited pioneers who fought together and I have proudly stood with many inside the Southern Forest Watch. Today we partner with folks outside to continue pressing the NPS. You may ask yourself, "What can be done?" The answer is plenty. First, especially if you are a Blount County resident but no less important if you are not, contact the Blount city council members. There is an upcoming vote on a resolution supporting the Smokies that passed on first reading last week. My research has shown that the NPS will likely manipulate this as an endorsement for an entrance fee. The lobbying firm was retained by the NPCA, allegedly, which does the NPS bidding. SFW is trying to get anti fee language inserted into this resolution. Even if you are not a Blount resident, consider sending an email to any or all of the members included below voicing your concerns. If you think it doesn't matter then let me remind you what happened the last time we showed up at a Blount County commission meeting? That's right. We handed it to Ditz and sent him into early retirement. His private comment a month later indicated as much to one of our fold. You have the power to stand with your fellow fee fighters now. this resolution asks congress for more money for the parks. It is also suggestive of privitization of the park. I spoke with the firm retained to promote it and that is what they suggested.
Let's remind the Cash man that his job is to preserve the Smokies as intended, not as Jarvis intends. This is the "people's park" and we have every right to demand it be administered accordingly. If you decide to send an email to the Blount Council, let them know that you do NOT support an entrance fee or any fees in the Smokies and wish to have language included to that effect. The meeting is the first Tuesday of the month and you can have a voice there, resident or not. Here is a link to the resolution language and here are the email links to council members. This is the next front in our mission to regain use of taxpayer lands and demanding common sense management thereof. Can you send an email? It costs nothing. We've proven this is a tactic that works and when Myers stood before the courts, he was able to cite our resolutions which did get the attention of one of the judges. It certainly got the Tennesse State House of Representative's attention. And why not. This is supposed to be OUR park, right?
Maryville Mayor: ttaylor@maryville-tn.gov
council members:
Thanks for your time.
John Quillen